Overview
---
Supervisors who oversee workers with 40-hour HAZWOPER certification must have taken initial OSHA 40 Hour HAZWOPER training. Supervisors who oversee workers with 24-hour HAZWOPER certification only need to have taken the initial OSHA 24 Hour HAZWOPER course.
Certified HAZWOPER Supervisors can refresh their certification by taking either an 8 Hour OSHA HAZWOPER Refresher or an 8 Hour OSHA Supervisor Refresher, but do not need both.
This training CANNOT be used as a substitute for the 24- or 40-hour HAZWOPER or HAZWOPER Supervisor refresher training requirement. Learn what OSHA says about that.
This OSHA accepted training is brought to you by a team of OSHA Certified Outreach Trainers and meets the requirements for 29 CFR 1910.120(e)(4) for General Industry and 29 CFR 1929.65(e)(4) for Construction.
IACET Continuing Education Credits
---
Safety Unlimited, Inc. is authorized by IACET to offer 8 Contact Hours (0.8 CEUs) of Continuing Education (CE) for this program.
Safety Unlimited, Inc. (Provider #5660170-2) is accredited by the International Association for Continuing Education and Training (IACET). Safety Unlimited, Inc. complies with the ANSI/IACET Standard, which is recognized internationally as a standard of excellence in instructional practices. As a result of this accreditation, Safety Unlimited, Inc. is accredited to issue the IACET CEU. As an IACET Accredited Provider, Safety Unlimited, Inc. offers CEUs for its programs that qualify under the ANSI/IACET Standard.
Print Syllabus
About This Course
---
Following the completion of all training content and achievement of passing scores on all exams, students will need to complete a brief evaluation and confirm his/her identity. After doing so, the student will have access to the course completion certificate.
This fully narrated course is built for success, and includes interactions, exercises, and knowledge checks intended to aid the learning experience and help prepare students for the module exams. Students must answer each knowledge check and complete each interaction in order to proceed.
Course Exams
---
This course has 3 module exams based upon the course's 3 modules. Students are required to complete each exam after completing all the sections within the corresponding module. This allows students to take the corresponding exam while the information is still fresh. THERE IS NO FINAL EXAM.
Each exam consists of 20 questions randomly selected from a large pool of questions. A score of 70% or better is required to pass each exam. Students who do not pass the exam the first time may retake the exam as many times as necessary in order to pass.
Course Objectives
---
The objectives for this course are to meet the Federal OSHA HAZWOPER training requirements of 29 CFR 1910.120(e)(4) for General Industry and 29 CFR 1926.65(e)(4) for Construction. This course is also intended to meet any HAZWOPER training requirements for EPA and State OSHA regulations.
Per 29 CFR 1910.120(e)(4) and 29 CFR 1926.65(e)(4)
Management and supervisor training. On-site management and supervisors directly responsible for, or who supervise employees engaged in, hazardous waste operations shall receive 40 hours initial training, and three days of supervised field experience (the training may be reduced to 24 hours and one day if the only area of their responsibility is employees covered by paragraphs (e)(3)(ii) and (e)(3)(iii)) and at least eight additional hours of specialized training at the time of job assignment on such topics as, but not limited to, the employer's safety and health program and the associated employee training program, personal protective equipment program, spill containment program, and health hazard monitoring procedure and techniques.
Learning Objectives
---
At the end of this course, students should be able to:
Demonstrate supervision and leadership methods;
Describe the functions of the many safety programs implemented by employers;
Outline management's role in the safety and health of employees; and
Recognize the financial benefit of risk management
Training Requirements
---
OSHA expects general hazardous waste site workers who will become supervisors or managers to receive at least 16 hours of training during the year they become a supervisor. This includes 8 hours of management and supervisory training in addition to 8 hours of employee refresher training. HAZWOPER requires supervisors and managers to receive training and supervised field experience that is, at least, equivalent to the level of training their employees have received and to have at least 8 additional hours of specialized training on the topics listed in 1910.120(e)(4).
Additional Training
---
When required by OSHA standards, workers must receive additional training on the specific hazards of their job. Training providers should be used to ensure credibility and augment a company's training program.
In addition to the training provided by an outside party, a student should receive site-specific training provided by his or her employer. This training should target the company's unique approach to hazard prevention, including the use of site-specific equipment, health and safety policies, and emergency procedures. As a rule, this company-specific training should be well documented.
The bottom line in ALL SITUATIONS is that employers are required to ensure their employees are trained adequately to do their job.
Volume Pricing
---
To learn more about our volume discounts for this training, visit our Volume Pricing page. We also offer an easy way to Enroll Multiple Students.
Package Deals for Additional Savings
---
The package deals below combine three of our online courses with the OSHA 8 Hour HAZWOPER Supervisor (Initial) course.
Save 20% On Select Courses
---
We're Celebrating 20 Years With 20% Off our most popular online training. No coupon code necessary!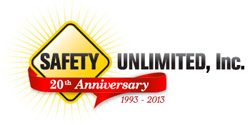 Frequently Asked Questions About Online Training
If you do not find your question here, we have more FAQs
---