Online Training with Mobile Devices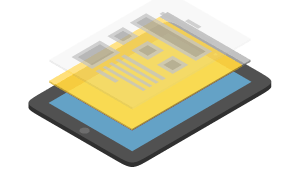 With a great number of adults using mobile devices--such as tablets and smart phones--to check emails, do business, and even enjoy movies, Safety Unlimited, Inc. knows it's time to make some changes.
We're excited to announce that ALL courses are available in HTML 5, making them more with the browser on your mobile device (e.g., smartphone or tablet). Our mobile-ready courses require only the most recent version of your mobile device's web browser, allowing students to take the course anywhere they have an internet connection.
You can switch between your computer and your mobile device, and our Learning Management System will keep track of your progress. There is no need to complete an entire section in order to move from one device to another.
Having ALL of our online courses MOBILE DEVICE READY gives you, the customer, the choice and flexibility to take our online training on your computer or from the comfort of your own palm, wherever you may be. You now have complete control of when and where you would like to take your online training!
Mobile Pros and Cons
Mobile versions of this sort of training are new, but below are some Pros and Cons that we have noticed during our extensive testing.
Pros
No computer needed
Tablet mobility
Tablet screen graphics
Cons
Smartphone screens can be too small to see
Mobile browsers react differently than computer browsers
Phone calls can interrupt training
During our testing we noticed that tablets work much better than smartphones, simply due to their screen size. The newer the device, the better the result. We are also aware that the course will not work on the first generation iPad, nor older Android Tablets. The best way to see how it works on your device is to click on the DEMO button on this page.
Your Mobile Browser
While HTML5 makes taking courses on mobile devices possible, not all mobile browsers are optimized for HTML5, meaning you may not have complete functionality. If you have difficulty taking these courses using the browser on your mobile device, you may need to use a different browser.
Test the functionality of your browser using HTML5 and compare it to the performance of other browsers. If you find other browsers are more compatible than your own, you may want to make the switch.