About This Training
The term "Competent Person" is used in many OSHA standards and documents. An OSHA "competent person" is defined as "one who is capable of identifying existing and predictable hazards in the surroundings or working conditions which are unsanitary, hazardous, or dangerous to employees, and who has authorization to take prompt corrective measures to eliminate them."
By way of training and/or experience, a competent person is knowledgeable of applicable standards, is capable of identifying workplace hazards relating to the specific operation, and has the authority to correct them.
This one-day classroom Trenching and Excavation Competent Person Training course goes far beyond the basic awareness level that many OSHA courses provide for trenching and excavation. Since the competent person is required to make critical decisions, they must receive much more in-depth training in order to create a safe environment for workers, as outlined in the OSHAs standards.
This course will help the competent person answer important job site questions such as: Are there adequate means of access and egress? Are adjacent structures stabilized? Does the procedure require benching or multiple benching, shoring, or shielding? Are means of egress from the cut, cavity, or depression no more than 25 feet from the work?
These, and many more, are the kinds of questions a competent person on a trenching or excavation site should be asking. While there is no substitute for real-world hands-on experience, this Trenching and Excavation Competent Person course will go a long way in providing a good foundation of knowledge from which a worker can create a safer excavation work environment.
---
Why is This Training Necessary?
The fatality rate for excavation work is 112% higher than general construction. This is why OSHA requires a competent person be present at every job site. Additionally, OSHA requires that a "Trenching and Excavation Competent Person" be on your construction or maintenance site whenever workers are exposed in an excavation.
Who Should Take This Training?
The training is designed to benefit employees at all levels of an organization, including senior management, safety professionals, project managers, project estimators, project superintendents, project foremen, and laborers engaged in projects related to the excavation standard.
How Long Is This Training?
The competent person training class takes approximately 8 hours to complete and includes a combination of classroom and hands-on training. Other options are available for client-hosted classes.
How Else Can I Take This Course?
This classroom training is offered as open enrollment at our training facility or as on-site training hosted by the employer. You can request a quote to have on-site training conducted at your location.
Is This Course Certified?
Yes. Each student who successfully completes this course will be issued a Safety Unlimited, Inc. Sample Certificate that can be downloaded, saved, or printed as many times as needed. Students will also be mailed a PVC Wallet ID Card card, with an optional photo.
---
REHS Continuing Education Credits
Per the California Department of Public Health, Safety Unlimited, Inc. is authorized to offer 8 Contact Hours (0.8 CEUs) of Continuing Education (CE) for this program.
While these CE units are intended for Registered Environmental Health Specialists (REHS) in California, they are often transferred to other accrediting bodies. Please check with your specific agency for more details and to learn if your agency accepts this course for CE credit (Public Health Accreditation #044).
---
IACET Continuing Education Credits
Effective 11-1-2019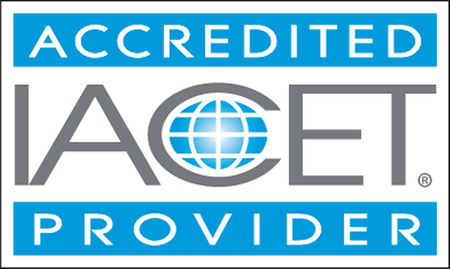 Safety Unlimited, Inc. is authorized by IACET to offer 8 Contact Hours (0.8 CEUs) of Continuing Education (CE) for this program.
Safety Unlimited, Inc. (Provider #5660170-2) is accredited by the International Association for Continuing Education and Training (IACET). Safety Unlimited, Inc. complies with the ANSI/IACET Standard, which is recognized internationally as a standard of excellence in instructional practices. As a result of this accreditation, Safety Unlimited, Inc. is accredited to issue the IACET CEU. As an IACET Accredited Provider, Safety Unlimited, Inc. offers CEUs for its programs that qualify under the ANSI/IACET Standard.