Overview
Our EMS-CE (24 Hours) - 24 Hour EMT Transition Topics course is designed for EMT-Basics who look to become eligible for National EMS Certification as an Emergency Medical Technician (NREMT). Under the new EMS Education Standards, if you are an EMT-Basic who has an expiration date of March 31, 2011 or March 31, 2012, then you have two registration cycles (4 years) to complete a state approved Emergency Medical Technician-Basic (EMT-B) to Emergency Medical Technician (EMT) transition course in order to be eligible for National EMS Certification as an Emergency Medical Technician (NREMT).
To transition to the EMT level, the NREMT-Basic is not required to complete a National EMS Certification Examination.
---
| NREMT-Basic Expires | Complete 24 Hour EMT Transition Online By |
| --- | --- |
| March 31, 2011 | March 31, 2015 |
| March 31, 2012 | March 31, 2016 |
Advantages of Safety Unlimited Online Training
Entirely Online
This course is taken entirely online from any computer that has high speed internet and meets our System Requirements. No classroom to attend; no travel required.
Self-Paced
There's no need to take the training in a single sitting. Start and stop as often as you want. Our system will track your progress, allowing you to resume your training where you left when you log in.
Instructor Hotline
Have questions about the course? Contact an instructor by email or through our Instructor Hotline. You can expect to receive a response within an hour during business hours and are guaranteed a response within 24 hours.
Certificate
Two certificates to choose from — This course can be taken as a Refresher Course or for Continuing Education (CE) credit. Download, save, or print a certificate after completing your training. If selected during enrollment, your PVC wallet ID, with optional photo, will be mailed within 24 hours.
Sample Certificate
24/7 Support
Telephone support is available 24 hours per day, 7 days per week, including holidays.
Fully Narrated
Follow along as our narrator talks you through the course.
Course History
In 1996 the National Highway Traffic Safety Administration (NHTSA) and the Health Resources and Services Administration (HRSA) came together to create a common vision for EMS, resulting in the EMS Agenda for the Future. That agenda was followed in 2000 by the EMS Education Agenda for the Future: A Systems Approach.
The result of these two agendas is a change from the title of EMT-Basic to EMT, as well as new educational requirements, including:
A change from assessment-based patient care to diagnostic-based patient care;
More extensive knowledge to assess and understand patient conditions; and
Use of pulse oximeters for assessment purposes.
As a result of these change in training requirements and certification titles, everyone in EMS will transition from levels of certification designated in the 1990s to new titles with new interventions and responsibilities.
In order for NREMTs to maintain National EMS Certification, all NREMTs must meet the minimum requirements of knowledge and skill outlined in the National EMT Scope of Practice Model.
This EMT Transition course is meant to help you transition from the old designation of EMT-B to the new designation of EMT.
Course Outline
Following the completion of all training content and achievement of passing scores on all exams, students will need to complete a brief evaluation and confirm his/her identity. After doing so, the student will have access to the course completion certificate.
This course consists of 55 sections broken down into 6 modules. At the end of each module you will complete an Objectives Learned assignment.
---
Course Exams
This course has one comprehensive final exam based upon the material covered in the course's 6 modules. The final exam consists of 100 questions randomly selected from a large pool of questions. A score of 80% or better is required to pass the final exam. If a student does not pass the final exam the first time, they may retake the exam as many times as necessary in order to pass.
---
Accreditation
California
This Safety Unlimited, Inc. EMS-CE (24 Hours) - 24 Hour EMT Transition Topics course is certified by the state of California (provider #56-0013) and the Ventura County EMS Agency (provider #56-0013), and meets the state and NREMT requirements for EMT Transition training.
Visit the California Emergency Medical Services Authority website and search for Safety Unlimited, Inc. (Formerly EMSTI, Inc.) to verify our accreditation.
Other States
Each state sets its own standard for what is required for EMT Transition Training and which courses are accepted. This course meets the National EMS Scope of Practice Model, which is the minimum standard for all states.
Please check with your local State EMS Agency to see if this course applies in your state.
---
BLS/ALS Continuing Education Credits
This EMS-CEU ( 24 Hours) course has been approved for 24 Contact Hours (24 CEUs) of BLS/ALS Instructor-based Continuing Education by CE (Provider 56-0013), CAPCE Provider #SUNI0321.
---
IACET Continuing Education Credits
Effective 11-1-2019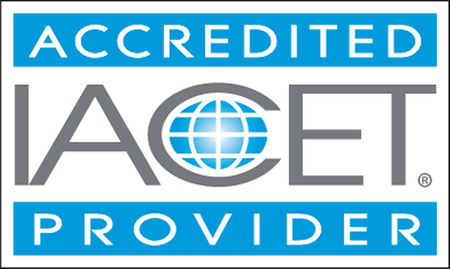 Safety Unlimited, Inc. is authorized by IACET to offer 24 Contact Hours (2.4 CEUs) of Continuing Education (CE) for this program.
Safety Unlimited, Inc. (Provider #5660170-2) is accredited by the International Association for Continuing Education and Training (IACET). Safety Unlimited, Inc. complies with the ANSI/IACET Standard, which is recognized internationally as a standard of excellence in instructional practices. As a result of this accreditation, Safety Unlimited, Inc. is accredited to issue the IACET CEU. As an IACET Accredited Provider, Safety Unlimited, Inc. offers CEUs for its programs that qualify under the ANSI/IACET Standard.
---
Safety Unlimited's Accreditations
Frequently Asked Questions About This Course
If you do not find your question here, we do have more FAQs
---
Our courses are set up to take a specific amount of time. Some students may get through the training more quickly, while others may take longer to complete their training. This course will take around 24 hours to complete.

Remember, this training should be used as an intricate tool in the context of an overall training program; it can be combined with other training throughout the year in order to meet any hour requirements needed.
No, our courses are designed so you can start and stop as needed, allowing you to break the training up over a longer period of time. Our system will keep track of your progress, enabling you to resume where you left off upon your next login. If you need to leave the computer for an extended amount of time you can click the Save Progress and Return to Course Outline link provided in the upper-right corner of the course to save your progress in the course.
Yes, you can take this course by signing in with your username and password from any location and computer with high-speed internet access. However, each computer needs to meet our Basic System Requirements for viewing our online courses.
Yes, once you have completed the course you will be able to download, save, or print a certificate of completion from your student account. Certificates are created in a pdf format. Users must have the latest version of Adobe Acrobat Reader before attempting to download the completion certificate.

View Sample Certificate